What white wine to buy at $50?
Wine may be one of the hardest spirits to choose, in that price is really no barometer of quality. The global winemaking landscape is in the midst of a bright, shining era. Historical winemaking practices are going head-to-head with new, innovative ideas, resulting in an abundance of complex, age-worthy wines. These picks, sampled recently, offer a snapshot of some of the most impressive Spanish white wines worth throwing down cash for.
Best Value Buy $50 Spanish White Wine
A delightful white wine with flavors of fresh peaches and apricots. This white wine without a doubt is all about the long, impressive finish. It's a great pick for $50.
Bodegas La Emperatriz Finca La Emperatriz Viura Cepas Viejas 2012
Bodegas La Emperatriz Finca La Emperatriz Viura Cepas Viejas 2012 is white wine from Rioja, Spain. Its retail price is $53.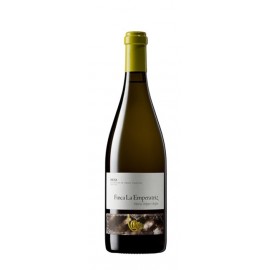 Bodegas La Emperatriz Finca La Emperatriz Viura Cepas Viejas 2012 Winemaker Notes
Pale gold in color, fresh and bright. Highly complex nose of medium intensity which increases as the wine opens up. Aromas of white fruits, peaches and apricots with hints of dried flowers and spices. On the palate it is weighty and full, with tremendous body.The full richness of its aromas develops on the palate.
91 Points Critical Acclaimed by James Suckling
A dense and soulful white with dried pear, apple and mineral character. Hints of chalk too. Full body, lots of fruit. Flavorful finish. A white with texture.
90 Points Critical Acclaimed by Robert Parker's Wine Advocate
The second white is a serious effort, the 2012 Finca la Emperatriz Viura Cepas Viejas. It is fermented with natural yeasts and aged in new and used barriques, giving it a ripe nose of yellow fruit and plenty of smoky/spicy tones with a mineral/chalky sensation and aromas of orange peel that I think reflects quite well a dry and warm vintage which produced riper wines. The palate is quite powerful with flavors that follow the sensations found in the nose, perhaps lacking a bit in the mid-palate. It feels fresher than the 2011, but it's still lacking a bit of length.
More Value Buy $50 White Wines From Spain
If you've yet to find the perfect choice, it never hurts to have a look on the suggested $50 white wines below.
Celler Pinol L'Avi Arrufi Blanco 2014
Celler Pinol L'Avi Arrufi Blanco 2014 is Grenache Blanc white wine from Terra Alta, Spain. Its retail price at $49.99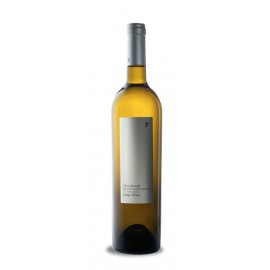 Celler Pinol L'Avi Arrufi Blanco 2014 Winemaker Notes
Vibrant, mineral-driven citrus and orchard fruit aromas are complemented by honeysuckle, ginger and a touch of quinine. On the palate, bitter pear skin and Meyer lemon flavors show very good depth and vivacity, along with a firming jolt of smoky minerality. The finish unwinds slowly, showing excellent concentration, persistence and lingering floral character.
This 100% Garnacha Blanca wine is made from vines over eighty years old. Just 300 cases are made of this limited production wine. Made with organically grown, estate grapes, from head pruned, dry farmed (no irrigation) vines. Garnacha Blanca is a versatile grape full of bright mineral flavors that enhance a wide spectrum of medium- to rich-flavored foods. This wine is perfect for all seasons.
92 Points Critical Acclaimed from Vinous
Brilliant ruby. Highly perfumed red and blue fruit and violet aromas are enlivened by a peppery nuance and a strong suggestion of smoky minerals. Juicy and seamless on the palate, offering gently sweet black raspberry and cherry flavors that spread out steadily with air. Finishes sappy, sweet and very long, featuring lingering spiciness and firming tannins.
Abadia Retuerta Le Domaine Blanco 2015
Abadia Retuerta Le Domaine Blanco 2015 is white blends wine from Spain. It's retail price is $40.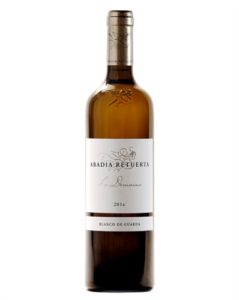 Abadia Retuerta Le Domaine Blanco 2015 Winemaker Notes
Bright and straw-coloured with golden hues. Its' nose is complex, intense and fruity; reminiscent of other grape varieties, with hints of pineapple and grapefruit, toast, butter and bakery. After 5 to 6 months of ageing in French Oak barrels, a fresh, citric, smoky, and slightly spiced flavor is achieved. It is a wine with body, just the right notes of wood, unctuous, with a long, fresh and delicate finish. It is a faithful reflection of our personality and has huge potential for laying down.
91 Points Critical Acclaimed Robert Parker's Wine Advocate
The one white produced at the property, the 2015 Le Domaine, is a barrel-fermented Sauvignon Blanc-based blend with 40% of Verdejo, Godello and other varieties that add complexity. The Sauvignon Blanc comes from a warm vineyard at 760 meters altitude in a place with lots of sand and boulders, where the grape achieves perfect ripeness. It started fermenting in stainless steel for two days and was then transferred to barrel where it completed fermentation with indigenous yeasts, and an élevage of five months. It feels incredibly fresh for a very warm vintage like 2015. There are Sauvignon aromas, but they are not that dominant, as the variety tends to heavily mark the wines. The oak is nicely integrated, and in a way it reminded me of a white Bordeaux. It should develop nicely in bottle.
Bodegas Mauro Godello Blanco 2014
Bodegas Mauro Godello Blanco 2014 is Godello white wine from Spain. Its retail price is $64.99.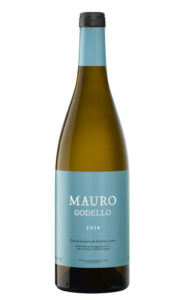 Bodegas Mauro Godello Blanco 2014 Winemaker Notes
Distinguished and mineral with varied nuances in the nose: white flowers, citrus and iodine features. Fibrous, broad, crunchy texture and huge length. It has class to age for years.
93 Points Critical Acclaimed by Robert Parker's Wine Advocate
The 2014 Godello was bottled in late June 2014. The grapes were harvested earlier (September 6th) to keep the acidity, and they didn't put it through malolactic. The grapes are from El Bierzo, but the wine is sold without appellation. The grapes are pressed and the must fermented in 500-liter French oak barrels, where it aged in contact with the lees for nine months. The nose mixes lots of aromas of lees and yeasts with white and yellow fruit and some flowers. The palate is light to medium-bodied and combines volume with great acidity, precision and focus with a very tasty finish. This is a great Godello from two plots, one on slate and clay soils and another one with a mixture of slate and rolling stones; the wine certainly has a minerality strike. With this acidity and pH, the wine should age in bottle nicely.
More Spanish White Under $50
If you wonder what else you can get under $50. let check out these:
Wine Gift Set Suggestions