For a long time Champagne was the only "good" sparkling wine that most Americans drank. Those days are long gone; today there's a good chance you'll see good Italian Proseccos and Spanish Cavas on wine lists and at your local wine shop.
You'll be surprised to know that Cava is far closer to Champagne (in terms of taste) than Prosecco. If you're looking for value bubbly, Cava might be your bag.
These 8 Spanish sparkling wine earned at least 90 points from the authorities yet under $20!
Check out Now!
Spanish Vintage Sparkling Wine under $20
There are two Spanish vintage sparkling wines under $20 with good reviews.
Juve Y Camps Brut Nature Reserva de la Familia Cava 2013, $16.99
Juve Y Camps Brut Nature Reserva de la Familia Cava is vintage sparkling wine from Penedes, Spain which under $20.

Juve Y Camps Brut Nature Reserva de la Familia Cava 2013 Winemaker Notes
Pale gold in color, this Cava has aromas of mature white peach, toasted bread and green tea with hints of lemon citrus and apricots. Equally rich and broad, these flavors continue to unfold on the palate.
90 Points Critical Acclaimed Decanter
Rich on the nose showing orange peel and floral notes with subtle herbs and nuttiness. Grapefruit zest refreshes the palate in concentrated finish.
Juve Y Camps Essential Xarello 2013, $17.99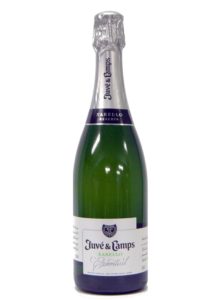 Juve Y Camps Essential Xarello 2013 Winemaker Notes
Aged for fifteen months before its release, the Cava displays a nice yellow color with some greenish and steely tinges. It also has a textbook aromatic expression of the Xarello grape and discreet notes of fennel, garrigue, rosemary and thyme along with touches of white fruit and dry fruit. On the other hand, the wine shows some bread-like, creamy notes coming from the yeasts. This Cava is fresh, gentle and creamy, with bitter notes of aromatic herbs, touches of dry fruit and a tense acidity. Nice little bubbles, long finish and a pleasant overall sensation.
Perfectly pairs with salty goat and sheep milk cheeses, dried and cured meats, mushroom tarts, salmon blinis and foie gras.
91 Points Critical Acclaimed by Wine & Spirits
More assertively aromatic than xarello has any right to be, Essential is rich in notes of peaches and cream, the bubbles so soft they seem to caress the tongue. The peach flavors evolve along with nuttiness, making it easy and pleasant to drink.
Spanish Non-vintage Sparkling Wine Under $20
Mercat Brut Nature Cava, $14.99

Mercat Brut Nature Cava Winemaker Notes
A delicate bead in the glass of soft golden color. The nose bursts with rich pear, green apple and hints of cream. On the palate the wine shows great finesse and balance with notes of papaya and pear rounded out with hints of hazelnuts, finishing with crisp acidity and freshness.
91 Points Critical Acclaimed The Wine Advocate
A wonderful peachy bouquet that blossoms in the glass with hints of dried apricot and honeysuckle. The palate is very well-balanced with crisp acidity and a fine thread of bitter lemon that lends tension and poise, leading to a very champagnois finish. Excellent!
Codorniu Anna de Codorniu Blanc de Blanc, $15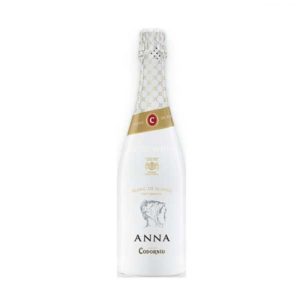 Codorniu Anna de Codorniu Blanc de Blanc Winemaker Notes
Pale straw yellow, clean and brilliant. Fine bubbles with continuous beads and a persistent mousse. Displays delicate aromas of tropical fruit such as pineapple, as well as citrus, grapefruit and lime. Soft on the palate with elegant citrus notes. Well balanced and refreshing. The freshness and delicacy of the Brut make it an ideal aperitif. It also goes well with shellfish and white fish. Suitable accompaniment for sushi and sashimi or lightly spiced carpaccio.
90 Points Critical Acclaimed  by Tasting Panel
This is a Cava of major historical importance and yet is just as relevant today. Fresh white peach, grapefruit and lime peel deliver softly onto the palate. You can't miss the stand-out packaging.
Ramon Raventos Brut Cava, $12.99

Ramon Raventos Brut Cava Winemaker Notes
A delicate bead with aromas of citrus and fresh green apple. Soft and elegant on the palate with notes of pear and toasted almond.
Wonderful as an aperitif or a good match with light appetizers and shellfish.
90 Points Critical Acclaimed Wilfred Wong of Wine.com
A gentle brut, the appealing Ramón Raventós Brut Plus Ultra brings dried fruit, savory herbs, and an uncommon brightness onto the palate. The wine's softness in the finish makes it a delightful aperitif wine with light hors d'oeuvres. (Tasted: July 20, 2017, San Francisco, CA)
Montsarra Cava Brut, $20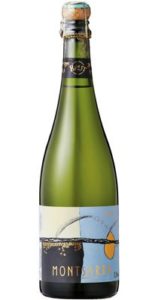 Montsarra Cava Brut,Winemaker Notes
A pale, sparkling wine with lasting bubbles and a crisp finish. The bouquet is fruity and vigorous. Extremely refreshing: an ideal aperitif!
This sprightly cava is made with a blend of three grape varieties – Macabeo, Xarello, and Parellada – all carefully selected fron the Montsarra vineyard in the Penedes region of Spain.
90 Points Critical Acclaimed by Wine & Spirits
Bosky apple scents and flavors of clotted cream imply richness, but the wine cuts that with Spanish severity, finishing on the flavor of Marcona alamonds, briny and tight.
Spanish Rose Sparkling Wine Under $20
Juve Y Camps Pinot Noir Brut Rose, $16.99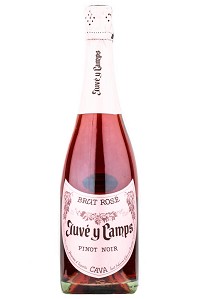 Juve Y Camps Pinot Noir Brut Rose Winemaker Notes
This cava seduces with its bright cherry red color and beautiful effervescence. It reflects the character of the variety, with its cherry and strawberry notes enveloped in honey, toasted bread and a faint floweriness. It is intense, fresh and exuberant in the mouth, with a rich, aromatic finish.
Pairs well with pasta, cured meats, Japanese food and baked goods.
91 Points Critical Acclaimed by The Wine Advocate
The NV Pinot Noir Brut Rose, a non-vintage sparkling wine from Pinot Noir grapes, which is quite dark-colored, displays a bright cherry red color with a showy nose of cherries, truffles and strawberry jam with a fresh, pungent palate, balanced acidity and flavors. Different, with a strong personality. It feels like a red sparkling wine, and quite good, by the way! I'd have it with some charcuterie.
89 Points Critical Acclaimed by Wine Enthusiast
Aromas of dusty earth, wet brick and mild red fruits set up a fresh, medium-bodied palate. Dry, full-force flavors of orange and cantaloupe finish with lively bubbles and some coarseness.
Pata Negra Brut Rose Cava, $14.99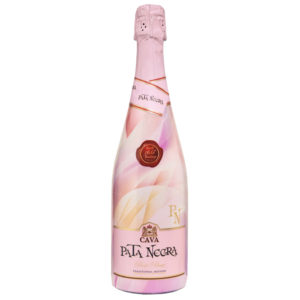 Pata Negra Brut Rose Cava Winemaker Notes
Pata Negra Rose Brut Cava is made from the highest quality grapes in the traditional method. A beautiful rich strawberry color. Fresh and elegant with aromas of red berries and pomegranate. Very fine elegant bubbles tickle the palate offering fruity flavors of strawberry and raspberry with a long elegant finish.
Great on its own, or pair with almonds, jack, brie or provolone cheeses, salads and asian foods
Varietal: 80% Trepat, 20% Pinot Noir
90 Points Critical Acclaimed by Wine & Spirits
This trepat based sparkler rings out with a burst of wild strawberry flavor. Then nuttiness comes up, light toast and fresh earth scents filling out the wine. The combination of red fruit, toast, earth and bubbles seems particularly geared toward ham, whether it's pata negra or Tennessee raised Benton's sliced thin on a biscuit.
Other Spanish Wine Under $20
Wine Gift Set Suggestions